Pizza. It's as varied in Italy as noodles are in Asia. But the more pizza I eat around Australia, the more it seems that the most common type of pizza served in Australia was of the wood fired, wafer thin crust variety.
So it was uber cool for me to get an education about true Naples style pizza from the owner of 400 Gradi and pizza champion, Johnny Di Francesco.

Located in Brunswick East in Melbourne, 400 Gradi Cinchetti is located right next door to the renowned 400 Gradi, and is Johnny's fulfilment of a lifelong dream to own a bar.
Serving a menu with share plates, antipasto and some smaller options from big brother 400 Gradi, the concept of the bar is to allow friends to have a casual after work drink, while enjoying a delicious shared meal in a relaxed environment. Well, more relaxed than a sit down restaurant anyway.
When I had lunch with Johnny, the bar was still undergoing construction and the menu still being developed, but I got to get a sneaky peek at items that were slated to be the menu.
True Napoletana style pizza, I'm told, has a more bready base than the thin, cracker-like pizzas that I'm so used to. Lots of air is trapped into the dough, which consists of not much more than flour, water, salt and yeast. The dough is slow proven for flavour, and hand shaped to have a thin centre and high sides.
The pizza is then topped with fresh ingredients – the Magherita, for example, has fresh hand-crushed tomatoes (that way the seeds don't make it bitter) and milky mozzarella. The pizza then spends a maximum of 90 seconds in a screaming hot pizza oven. The point is to just heat the toppings and melt the cheese, and give the base a lift and some colour.
I've learnt that the dough should be so tender that you can fold the slice in half without it cracking or tearing. On a larger pizza, you would expect the point to flop, and give you the pull and chew that you would expect of really hearty bread.
But what about the rest of the menu?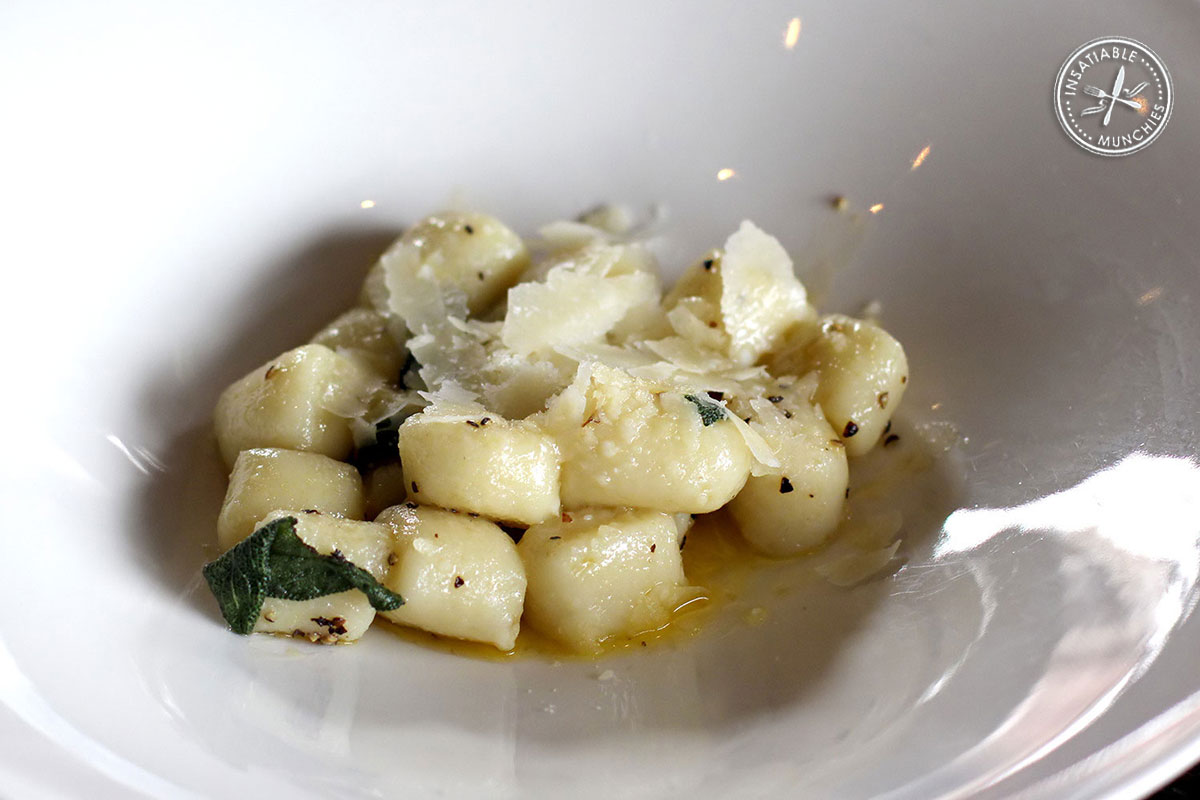 Johnny kindly brought me through a selection of pastas and antipastos that were slated to be on the new menu. The Sage Butter Gnocchi was one of the standouts to me. It was fluffy, and light as air. My teeth sank readily into each morsel, and marvelled at how easy it all fell apart even though they looked firmly shaped on the plate. The sage butter was simple and rich, and lightly coated each little potato dumpling.
I also loved the antipasto options. The warm Mussel, Feta and Rocket showcased fresh, plump and juicy mussels, delicately enhanced with fresh rocket and salty feta. The Balmain Bugs with wilted spinach and cherry tomatoes were also cooked to perfection – have I mentioned how I dislike overcooked seafood – with a light charred flavour to the Balmain bug that was complemented by the freshness of the tomatoes and spinach. The Kingfish Caparccio was drizzled lightly with a fruity olive oil and topped with the amazing Scalia anchovies. Far from the fishy, over salted tinned mush that often maligns anchovies, these were meaty, plump and so delicious I could've eaten them on their own. Paired with the clean, sweet Kingfish, it was my favourite of the day.
With dedication and passion like that, I'm sure that 400 Gradi Cinchetti will be a great spot to grab a bite and a drink with friends.
400 Gradi Cinchetti
03 9380 2320
99a Lygon St Brunswick East
VIC 3057
www.400gradi.com.au/
Insatiable Munchies dined as a guest of 400 Gradi Cinchetti and Evil Twin PR.