For quite a few years when I was a kid, one of my aunts – the cool one, in case you're wondering – moved abroad and lived in England and Vietnam, and came back with all sorts of amazing dishes, like a kickass potato salad, shrimp fried chicken, as well as this glass noodle salad, full of amazing Thai flavours.
This salad became a fridge favourite when my aunt dropped off a batch – I would sneak a bowl between meals when my parents weren't looking, and at one point I just ended up eating straight out of the tub during those midnight trips into the kitchen.
What? Sleep eating is a thing right?
Over the years, the recipe has evolved a touch. I've added loads of fresh veggies – because my mind lays on the guilt like an Asian mother – and taken out the chicken, just for preference. It's not quite the same as what my aunt makes, but it's become my own version of the fridge favourite of my childhood, ready on hand for lunch boxes…
…and of course, midnight trips to the fridge.
It just so happens that the theme for this month's #LetsLunch is noodles, so I'm sharing my recipe for this Glass Noodle Salad, for the last weeks of summer!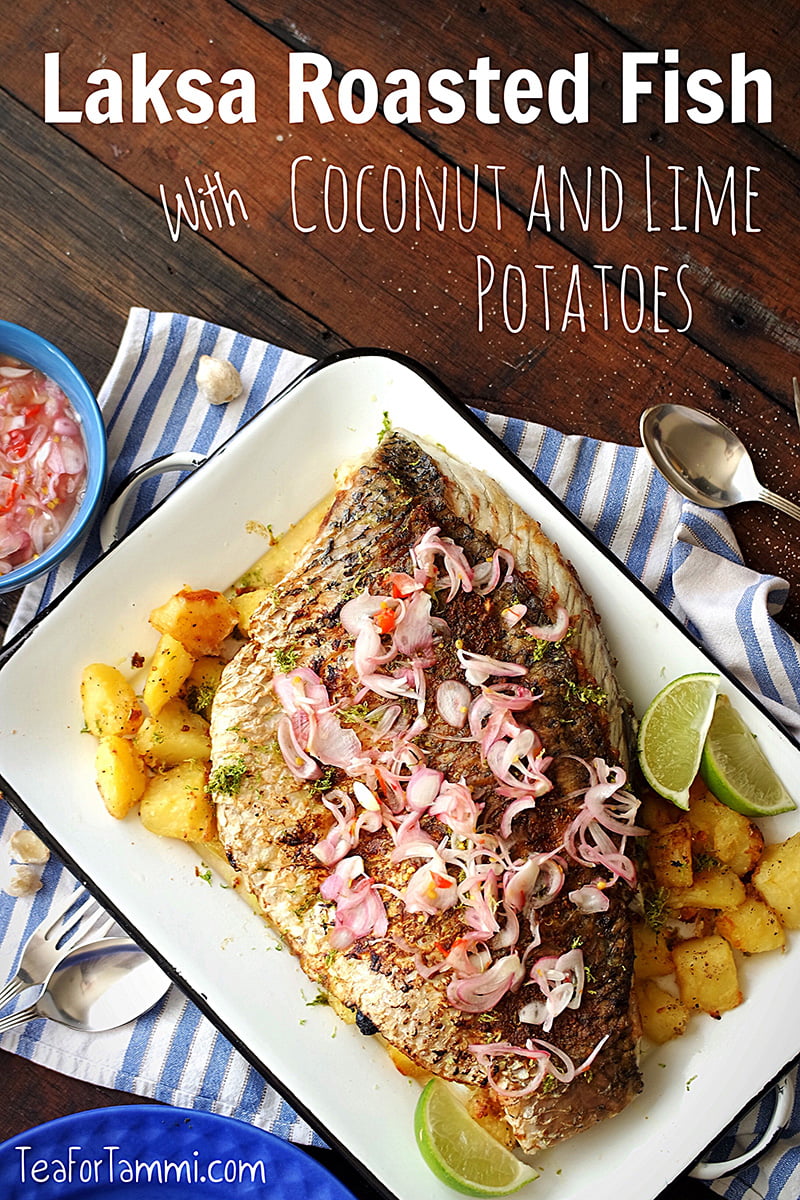 Laksa Roasted Fish with Coconut Lime Potatoes
2015-03-25 01:52:59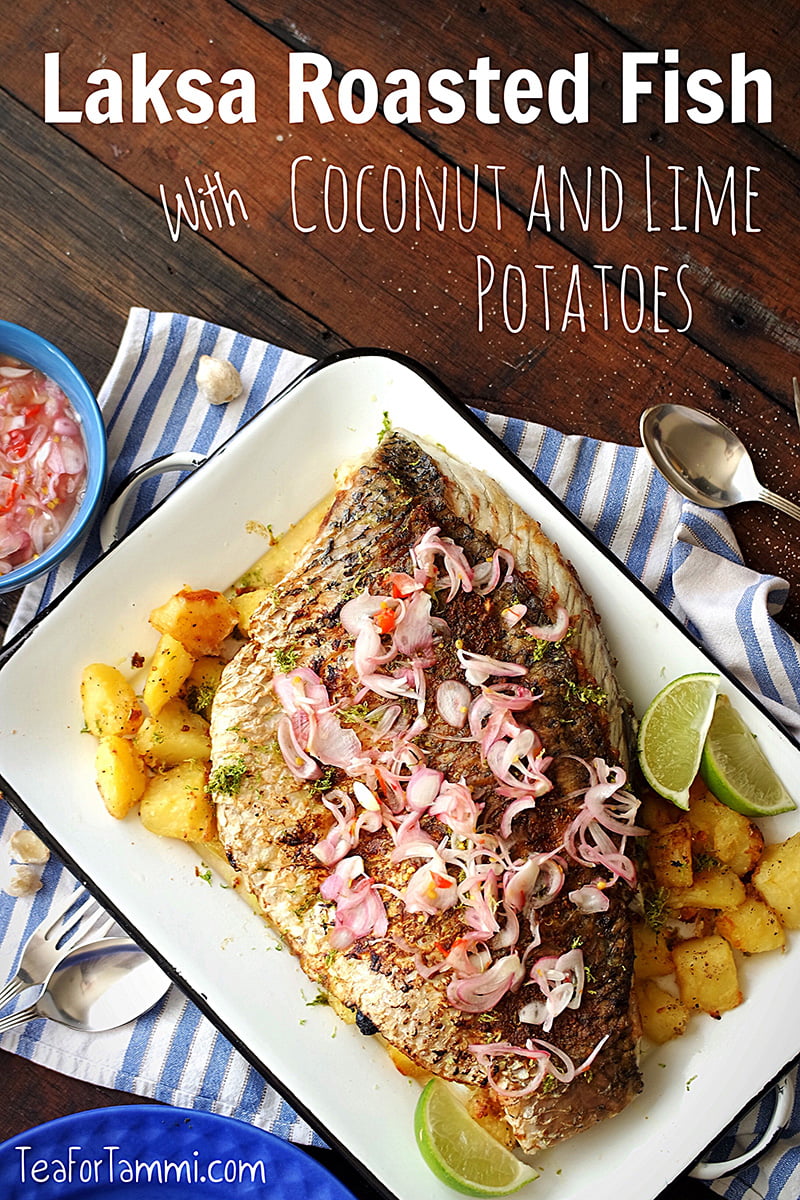 Serves 8
Inspired by Laksa - the fragrant spiced coconut noodle dish that I've grown up with - I've created this recipe for Laksa Roasted Fish with Coconut Lime Potatoes, just in time for Lent! Featuring a whole side of wild barramundi, this dish of roasted fish and potatoes is great to share as a family, and provides a unique twist on an old favourite.
For the fish
1kg fillet of wild barramundi, scaled and pin-boned
6 tsp laksa lemak spice mix*
3 tsp tamarind paste
2 tbsp fish sauce
2 tbsp coconut oil, for frying
For the Coconut Lime Potatoes
1 kg washed yellow potatoes
400g (1 can) coconut cream
2 tbsp coconut oil
Zest of 2 limes
Salt and Pepper
For the Shallot and Lime Quick Pickle
2-3 large french shallots
Juice of 2 limes
1 tbsp sugar
1 tsp salt
1 tsp fish sauce
1 bird's eye chilli, finely chopped**
2 extra limes, to serve
For the potatoes
Heat your oven to 220C.
Peel and cut the potatoes into serving size pieces.
Place into a large pot with 1 tbsp salt with coconut cream.
Add just enough water to cover the potatoes and bring to the boil.
Boil till just tender, and drain.
Strain the potatoes and return to hot empty pot.
Give the potatoes a good shake with 1 tbsp oil - roughing up the outside of the potatoes causes it to crisp up better.
Place the potatoes into a large roasting tray in a single layer, and season with some salt and pepper.
Roast till the potatoes are golden, about 30-40min.
For the fish
Mix the fish sauce, tamarind paste, and spices in a small bowl.
Spread the paste all over the barramundi fillet and leave to marinade for 5-10 minutes.
Heat coconut oil in a very large, wide frying pan on high heat.
Place the fish skin side down into the pan, and sear till the skin is golden and lightly crispy.
Remove hot potatoes from oven and toss with coconut oil.
Place the fish meat side down onto the hot, roasted potatoes, and return to the oven.
Turn the oven down to 200C, and roast for 10-15 minutes.
Rest fish for 5 minutes.
For the quick pickle
Finely slice the peeled shallots and place into a small bowl.
Zest the limes, and reserve the zest.
Juice 2 large limes onto the shallots, and mix with fish sauce, salt, sugar, and finely chopped chilli.
Leave to pickle for 10-15 minutes.
To Serve
Sprinkle lime zest over the top of the roasted fish and potatoes, and scatter over some of the pickled shallots.
Serve rest of quick pickle on the side.
Notes
*You can also mix in a laksa paste, if you wish. I bought my laksa lemak spice mix from Gewurzhaus in Sydney.
**I love my chilli nuclear, so I add loads of chopped chilli to the pickle. If you'd like, you can also use the large red chillies, which are more fruity and less spicy.
Tea For Tammi https://teafortammi.com/
This post is also part of the Let's Lunch linkup! If you'd like to read some of the other noodle themed Let's Lunch posts, check out these blogs below: